Study Abroad
In a globalized world,
study abroad
is the best experience you can have for your personal and professional life! It is a great opportunity to appreciate new cultures, learn new languages, challenge yourself by living in another country, and meeting people from all around the world.
Where to begin?
Before you start an application, you will need to decide if you want to go abroad for a
semester-long
,
summertime, or spring break
.
How can I know what program works better for me?
- If you want to apply for a semester-long program you will need to be a junior at the time you go abroad. That means that you can start your application in your sophomore year.
- Summer programs are eligible to go abroad since the first summer that you are at PRATT. That means that you can apply from your freshman year to the end of your program.
- Spring Break programs work similar to summer programs but some of them are part of a class, so to go to that program you will need to be part of that class.
- Alumni are eligible to go abroad to some of the summer and spring break programs. *You can find that information in each program.
After you know for how long you want to go abroad you will need to start your application. PRATT has created an online application portal using

Terra Dotta

that will simplify the process and keep important documents in one place.

​
* To begin an application, login in using your Pratt OneKey (not the same as your email) the one you use to log into MyPratt.
a. Select "I have a username and password"
b. Select the available program term/year you wish to apply to.
c. You can only complete one application per term. You will be given the opportunity to select other program choices in the application.
d. You will be taken to a profile page where you can see your program information, announcements, learning content, material submissions, signature documents, and application questionnaires.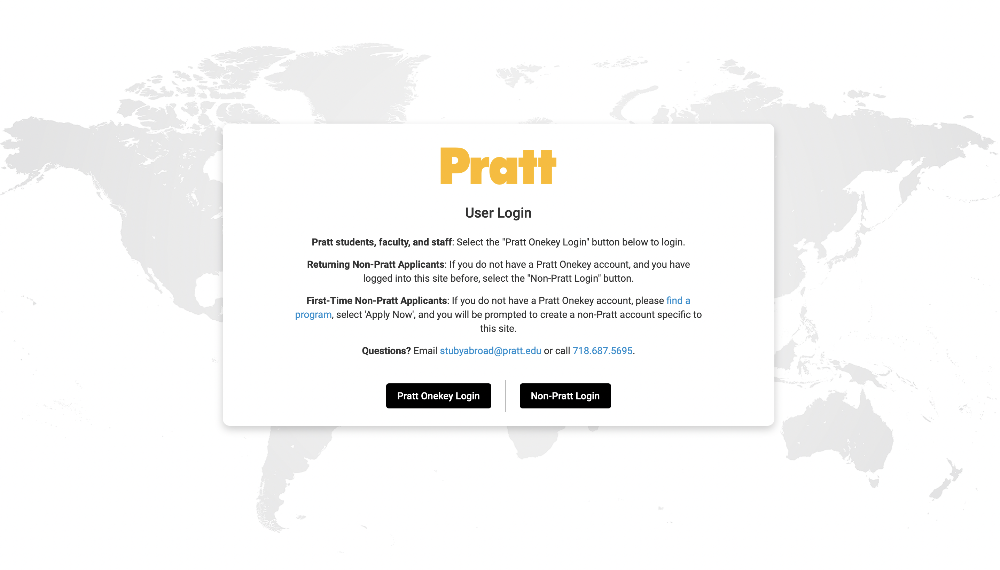 Now that you start your application on our website you are one step closer to live the experience of
study abroad!
Please select the tab of the program you want to apply to (semester-long, summertime, or spring break) and follow the steps.